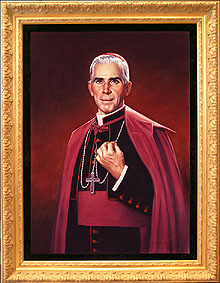 PhD, KULeuven. Belgium
New York
Famous Theologian, Philosopher, TV Personality
"Next to God … Louvain (Leuven)"
" When we look back over a life
that is rather full,
we recognize how much we owe
to the Good Lord.
But next to God, on this earth,
I owe what I am to
​The Catholic University of Louvain, Belgium.
(Katholieke Universiteit Leuven / KULeuven).
​If there has been any success in writing,
it is due to Louvain.
​If there has been any success on television,
it is due to Louvain.
​If there has been any success in teaching,
it too, has been due to Louvain. "
New York Archbishop Fulton J. Sheen's ​ (1895 – 1979)
above sentiments about his formative education at KULeuven
(Doctorate, PhD in Philosophy) are shared by the hundreds of
Louvain / Leuven – educated priests working today in America and beyond.
The American College (Seminary) of KULeuven in Belgium has served a 154 – year mission of sharing Louvain's philosophical and theological wealth with its Catholic Church in the United States through its intensive programs of seminary formation for philosophers, pre-theologians, and theologians.
Fulton J. Sheen: a world-renowned theologian, philosopher, author, professor, and a parish priest. He was awarded the Cardinal Mercier Prize for International Philosophy in 1923.
Sheen was an American Archbishop in New York and Archbishop of the Titular See of Newport Wales; well-known for his books, television and radio work.
For 20 years, he hosted the radio program " The Catholic Hour " (1930 – 1950)
before moving on to television, " Life is Worth Living " (1951 – 1957);
and the syndicated " The Fulton Sheen Program " (1961 – 1968).​
He won an Emmy Award for Most Outstanding Television Personality.
Fulton John Sheen's cause for canonization for sainthood was officially opened in 2002, so he is now referred to as a Servant of God.
Classic  Fulton  Sheen
TV  Broadcast  in  the  1960's.
Still  Relevant  in  2024  ?
" Quo  Vadis,  America ?"
Where  Are  You  Going,  America  ?